We just received our gold plating order back and I have great new 24kt gold
vermeil
pieces to share with you!
Vermeil
(pronounced
ver
-may), is different from other gold plates because to qualify as true
vermeil
it must have a base of sterling silver underneath (no base metals, no mystery metals). The plating must also be no less than 10kt and have a substantial thickness. This is not to be confused with gold filled (a thin layer of 14kt gold bonded to a brass core). By sending out our own silver pieces to be plated, we can easily control the
quality
and prices of our gold.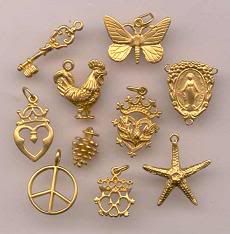 Charms! This is just a very small sample of what came back, I just love that little pine cone and the rooster!

A varitey of gold vermeil bails . . . something for every occasion!


We sent a handful of our personal line of Euro style beads and they came back great! The gold really brings out the details in the beads.

These are by far the most exciting items to come back from our gold order. These are our antique Hindu amulets and they just looking fabulous in gold! We only had about a dozen plated this time, so if you want one immediately act fast!