A box came in this week full of silver and gold . . . freshwater pearls! Silver colored pearls are a great addition to almost any project. The smaller pieces compliment almost any color which makes them great spacers. The larger ones can also be paired with just about anything. I personally like mixing them with iolite and labradorite to enhance the silvery sheen . . . but if you're feeling adventurous with color green and purple look beautiful too!

These remind me of tiny, glittery river stones. Can you imagine finding these scattered along a river bed? I can (it's one of my 'happy places').
$11 per strand

The quality on these drop shapes is amazing! Almost perfectly smooth with a glowing luster. Great for earrings.
$17 per strand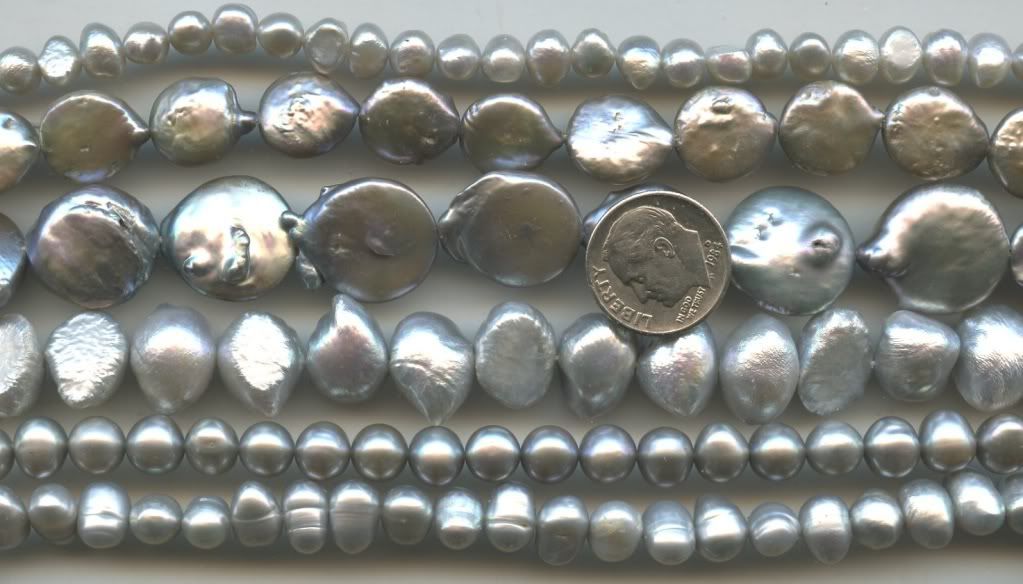 These irregular shapes are always fun to work with and give a nice organic look without skimping on the overall quality of your pieces. I really like the texture on some of these, it seems to amplify the sheen and give your pieces extra glitter.
Starting from the top . . .
Small nuggets are $4 per strand (think of the inexpensive multi-strands projects that could be done!)
Coin shaped are $14-$34 per strand
The big nuggets are only $18 per strand
Round shaped are $14 per strand
The potato shaped are a steal at $6 per strand

Golden toned pearls in a variety of rounds. Beautiful luster!
$23-$27 per strand
Happy Memorial Day weekend to everyone! Remember that even though you may have the long weekend off, we don't (how else would you get your bead fix?). We'll be open normal hours for all your beading needs. Come by and say hi!