Some new decorative bails to enhance your pendants . . .
Copper donut bails! Newly available in copper, these bails are used exclusively with stone or glass donuts. More to come!
Small flower bud (left): $1.50 each
Large leaf (right): $3.10 each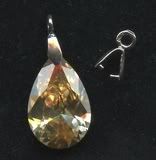 Check out this cute little pinch bail! The picture is enlarged to show detail, the bail is actually just under half an inch in length. Made of sterling silver, this hardy little bail will hold onto your pendants that have a front to back hole. They are a perfect match with our exclusive line of cubic zirconia drops!
$1.65 each