Turquoise has always been a staple for us, but with so much imitation and dyed material out there (of which we will never carry) the really nice stuff can be hard to find. This past shipment brought us a wonderful selection of turquoise beads in a variety of colors and shapes. Let's start with my favorite . . .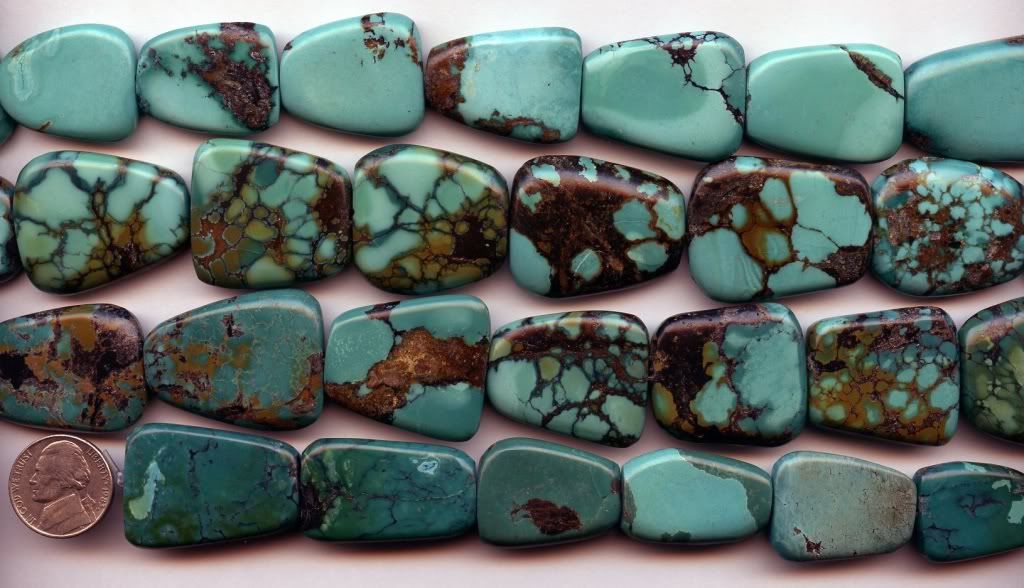 These are
so
stunning in person! They closely resemble the antique
Tibetan Turquoise
, but at a fraction of the price. Definitely a show stopper!
Chinese turquoise, 24mm-38mm (hole to hole)
Prices range from $171-$255 per strand
These sweet coins make great spacers and are available in both green and blue.
American turquoise, approx. 10mm
Coins priced at $25 per strand.
Rounds have been especially hard to find in the natural turquoise, so when it's available we try to get everything we can get our hands on.
Chinese turquoise, 6mm-14mm
Rounds priced from $20-$107 per strand.
These drops are large enough for a subtle pendant, but also make great earrings.
American turquoise, 14mm-24mm
Prices range from $41-$79
These always remind me of potato chips! I love the organic shapes, and the blue color is breath taking.
American turquoise, 10mm
Wavy discs priced at $93 per strand.
These disc's are perfectly graduated and exhibit a subtle sky blue color.
American turquoise, 3mm-13mm
Graduated discs priced at $69 per strand.