A new gold vermeil order just came in packed with all sorts of fun stuff! Gold vermeil refers to sterling silver that has been heavily plated in gold. We actually collect our own silver pieces and send them to a gold plating company along with our specifications. By sending them out ourselves we can control the quality and keep our prices reasonable. Below are some pictures of our favorites of the shipment . . .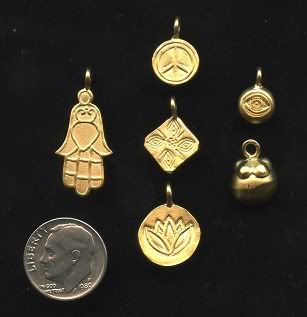 Gold vermeil Thai charms. The round charm on the right is actually a bell! The lotus, peace sign and bell are brand new to us.

More gold vermeil charms including (from left to right) Isis, a hedgehog ( he's got such a sweet face . . . that we can't see on the scan), a heart, a lion, and two styles of Buddhas.
These string-able gold vermeil bails make any special bead really stand out as a beautiful pendant. Simply wire wrap your bead to the loop, string the bail on your choice of cord or thin snake chain and you're ready to go!

Nothing quite compares to the quality of these Turkish made chandeliers. The scroll work is amazing, all you need is a couple of sparkling beads and you have instant eye catching earrings.
This is just a small collection of what was included in the shipment, so be sure to stop by to check it all out!