Although Pyrite has often been referred to as "Fool's Gold", I think it would be foolish NOT to pick up a strand or two of this new pyrite! We have chunks, spacers and shapes, and they are all wonderful. But let's start with the chunks!
We've had some of the large and medium chunks (the outer strands) in the past, and they have gone fast! They add an earthy sparkle to a necklace or bracelet, and I love mixing them with Lapis. We also have new tiny chunks for fun spacers, and large, sparkly chunks that combine quartz and pyrite.
Large Quartz/Pyrite Chunks (about 16mm) $34/strand
Large Pyrite Chunks (about 14mm) $20/strand
Medium Pyrite Chunks (about 12mm) $10/strand
Tiny Pyrite Chunks (about 3mm) $8/strand
And now we have faceted round spacers in 2mm and 3mm. These have decent size holes, so they are easy to string and can be used to add warm sparkle to a wide variety of projects.
2mm Faceted Rounds $29/strand
3mm Faceted Rounds $27/strand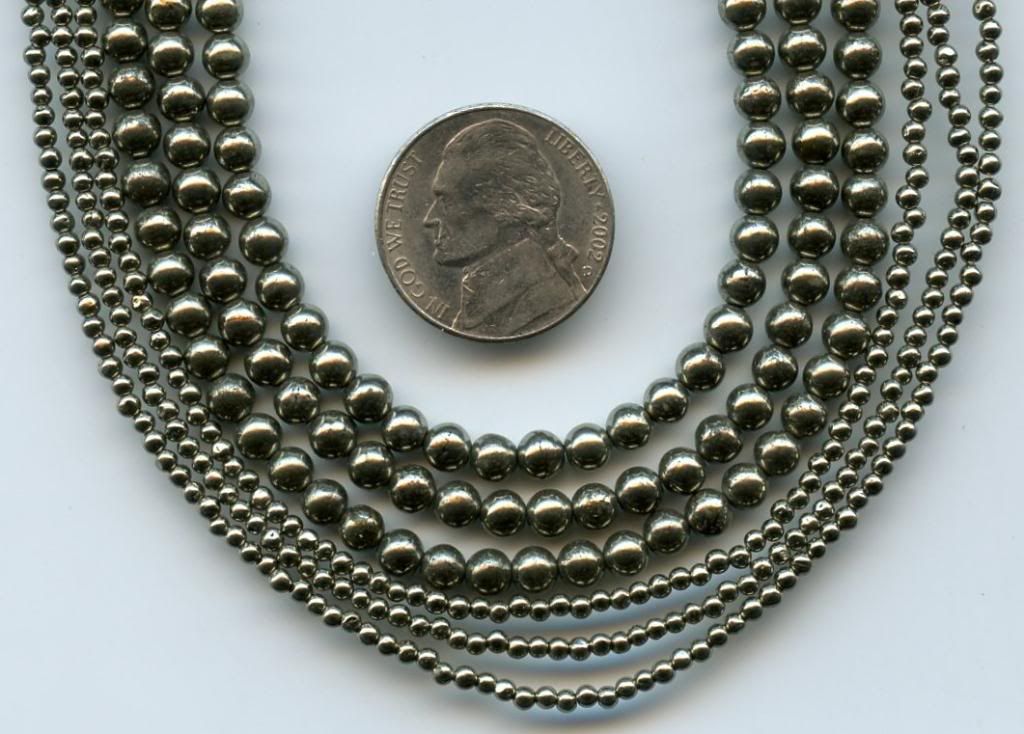 But if smooth rounds are what you need, we have them as well! These beauties come in 2mm and 4mm. They also make great spacers, without quite as much sparkle, for a more subtle metallic look.
2mm Smooth Rounds $16/strand
4mm Smooth Rounds $11/strand
And last but not least, the shapes! These shapes are so much fun, and can be used for a variety of applications. Use the large faceted coins as a focal piece; use the small coins as spacers; use the squares in a wrap bracelet... The options are endless!
16mm Faceted Coins $25/strand
7mm Smooth Coins $13/strand
6mm Smooth Cubes $11/strand
4x6mm Smooth Tubes $13/strand
4x6mm Smooth Rice-Shaped $13/strand
So stop on by and check out the new Pyrite - certainly not a foolish choice!
There's still more new arrivals to talk about... next up: Skulls and Buddhas!